"Betrayer… In truth, it was I who was betrayed. Still, I am hunted. Still, I am hated. Now, my blind eyes see what others cannot"
-Illadan Stormrage
This is more of a character idea rather than an outfit. Illadan Stormrage from World of Warcraft is a Night ElfIllidan, also known as the Betrayer, was the twin brother of Malfurion Stormrage. He was a practitioner of Highborne magic. In his youth, he attempted to master the druidic forces as his brother had, but the sorcery called to him in a way that the magic of the land did not.
Illidan was born with amber eyes, which is so rare amongst Night Elves that anyone born with it is considered destined to do great things. As he begins to play with Fel Magic, his eyes change from amber to bright green.
Illidan makes the perfect Dragonknight, benefitting from the Dunmer racial fire passives & the dragon-winged abilities. I would have liked to take some screenshots of him with the wings, however I'm not prepared to level a model character just for pics! Perhaps one day I will run a Dunmer DK.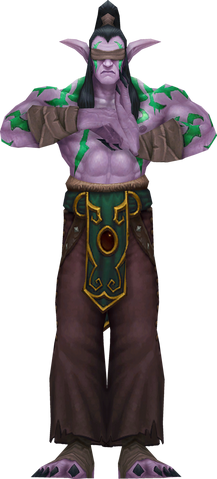 Another suitable hairstyle would be the Wrapped Horsetail bought from the Crown Store, I missed out on this item so I've given him Long Elvish hair.
-Hollowjack Daggers
-Sightless Master Blindfold
-Coil with Long Fall Hairstyle
-Light Barbaric Gloves (Dyed Book Cover Brown)
-Medium Dunmer Leggings (Dyed Book Cover Brown)