Ear Lobe Stinger
Most of my email requests usually ask for more Wood Elf Female Face Sliders, and I must apologize for the late/no replies as I am not very good at checking my emails as I should be. This is what I came up with this morning, I love hearing your requests and emails (even if I don't reply I still read them!) Please open the blog post to view the sliders –
During the process of picking cosmetics I couldn't decide on a body marking so have listed them both, just another example of how body markings can change an outfit!
-Victory Brow
-Orsinium Ponytail
-Ear Lobe Stinger Earrings
-Wood Elf Vanguard Costume (Jode Red, Maormer Eyes Grey)
-Blood Stripes Chest Paint/Deep Dark Red Trim Gorget (Body Marking)
"The Daedric Prince Hircine is also known as the Huntsman of the Princes, and the Father of Manbeasts. He can call upon the Wild Hunt to punish those who defy him." 
Hircine – The Antlered Daedric Prince of the Hunt who is worshipped by the Witches of Glenmoril, creator of Lycanthropy and main antagonist in Morrowind: Bloodmoon expansion. In Oblivion, Hircine will ask the hero to kill a Unicorn to obtain one of the best pieces of armour in the game.
I've never actually killed the unicorn, instead I'd reroll Satin-Blonde Bosmers and sneak my way past the minotaurs to have the Unicorn as a mount. Successfully acquiring it was basically end game for me. I truly hope ESO brings in Unicorns, as riding a unicorn cannot be any stranger than riding a Zombie or Ice Horse.
While Hircine's statues picture him with a spear, we don't (yet) have the option to use that as a weapon, however the Altmer Staff & Barbaric 2h Sword have a spear-like look.
Hircine's appearance seems inspired by the Ancient Celtic Deity Cernunnos & Herne the Hunter from English Folklore.
While I've achieved this look using the Tribal Shamans pack from the Crown Store, a similar crafted outfit is easily created using the Bosmer Homespun Robe (Clothing craft level 1).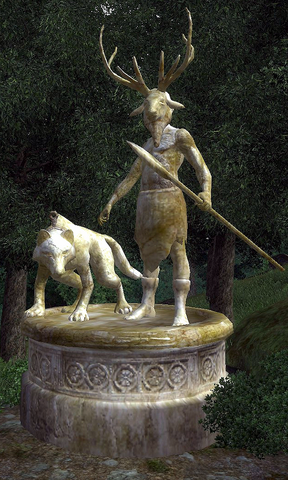 ITEMS USED IN THIS OUTFIT – 
Great Elk Mount (Crown Store)
Valenwood Spinner Costume (Crown Store)
Dainty Antlers
Ear Lobe Stinger
Scholar's Half Circlet
Long Curly Crown Braid
Sentinel's Lash (Bow)