Long Curly Crown Braid
"Kynareth is a member of the Nine Divines, the strongest of the Sky spirits"
-Varieties of Faith in the Empire
Kynareth is the deity of the heavens, wind & unseen spirits of the air. This character is inspired from the Donation Collector of Kynareth, from Elder Scrolls II: Daggerfall.
-Victory Brow
-Long Curly Crown Braid
-Blue Lips & Eye Marking
-Floral Droplet Earrings
-"Song of the Night" Ensemble (Crown Store)
(Dyed Bugloss Blue, Default)
"The Tempest does not play favourites"
-Storm
Though I'm not a fan of superhero movies, as a child I loved the cartoons and was completely obsessed with Storm. I thought she was just so beautiful, an elegant and powerful space goddess who could control thunder and lightening, what's not to love?
Storm has gone through alot of different designs over the years, I decided not to follow one in particular but just to work with basics. She has white hair and eyes, and generally wears black or white clothing with a golden trim. I decided to put her in the dark seducer costume, available at champion level 60.
The Oracle Eyes is one of my favourite items, especially for ESO vampires. The body & face markings pack came out at the start of the month and was more exciting to me than the homestead update, as I love how Body Markings can change an outfit.
-Oracle Eyes
-Long Curly Crown Braid
-Dark Red Lipstick Face Marking
-Painted Rising Lines Body Marking
-Dominion Topaz Circlet (Crown Store)
-Dark Seducer Costume (Achievement)
(Dyed Noxophilic Black, Volunteers Iron)
"The Daedric Prince Hircine is also known as the Huntsman of the Princes, and the Father of Manbeasts. He can call upon the Wild Hunt to punish those who defy him." 
Hircine – The Antlered Daedric Prince of the Hunt who is worshipped by the Witches of Glenmoril, creator of Lycanthropy and main antagonist in Morrowind: Bloodmoon expansion. In Oblivion, Hircine will ask the hero to kill a Unicorn to obtain one of the best pieces of armour in the game.
I've never actually killed the unicorn, instead I'd reroll Satin-Blonde Bosmers and sneak my way past the minotaurs to have the Unicorn as a mount. Successfully acquiring it was basically end game for me. I truly hope ESO brings in Unicorns, as riding a unicorn cannot be any stranger than riding a Zombie or Ice Horse.
While Hircine's statues picture him with a spear, we don't (yet) have the option to use that as a weapon, however the Altmer Staff & Barbaric 2h Sword have a spear-like look.
Hircine's appearance seems inspired by the Ancient Celtic Deity Cernunnos & Herne the Hunter from English Folklore.
While I've achieved this look using the Tribal Shamans pack from the Crown Store, a similar crafted outfit is easily created using the Bosmer Homespun Robe (Clothing craft level 1).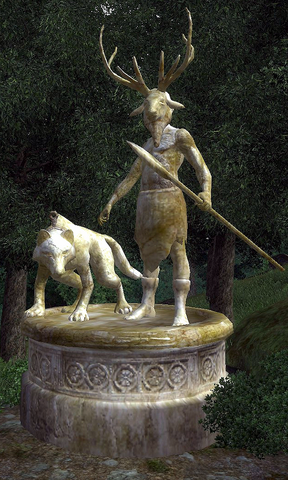 ITEMS USED IN THIS OUTFIT – 
Great Elk Mount (Crown Store)
Valenwood Spinner Costume (Crown Store)
Dainty Antlers
Ear Lobe Stinger
Scholar's Half Circlet
Long Curly Crown Braid
Sentinel's Lash (Bow)